Hair Growth Oil/Body Oil
Regular price
Sale price
$20.00 USD
Unit price
per
Sale
Sold out
Our loc Replenisher is perfect for replenishing the nutrients your Hair,body & scalp need. We always recommend for your scalp hydrating first with our Hydration Mist following up with a Replenisher to seal in the moisture. Our Replenisher has a high level of faty acids that your hair lack and that penetrate the hair shaft of your locs  cause of how  leightweight vs just coating and sitting on top.
Our Replenisher was designed to repair, seal, and strengthen your hair by reducing breakage,itchiness flakiness  while promoting hair growth..
Our Replenisher has the vitamins,Antioxidants, & Herbs that not only heal your scalp but NOURISH & Moisturize your skin.. 
FOR BODY- APPLYS BEST AFTER SHOWER.  LEAVEN YOUR SKIN RADIANT & SMOOTH 😍  (Dry Yourself slightly for BEST RESULTS… 

Ingredients: Grapeseed Oil, Avocado Oil, Sweet Almond Oil, Love  and Fragrance Scent
Share
How to use

Spray on your hair and scalp, 3 to 5 times a week for best results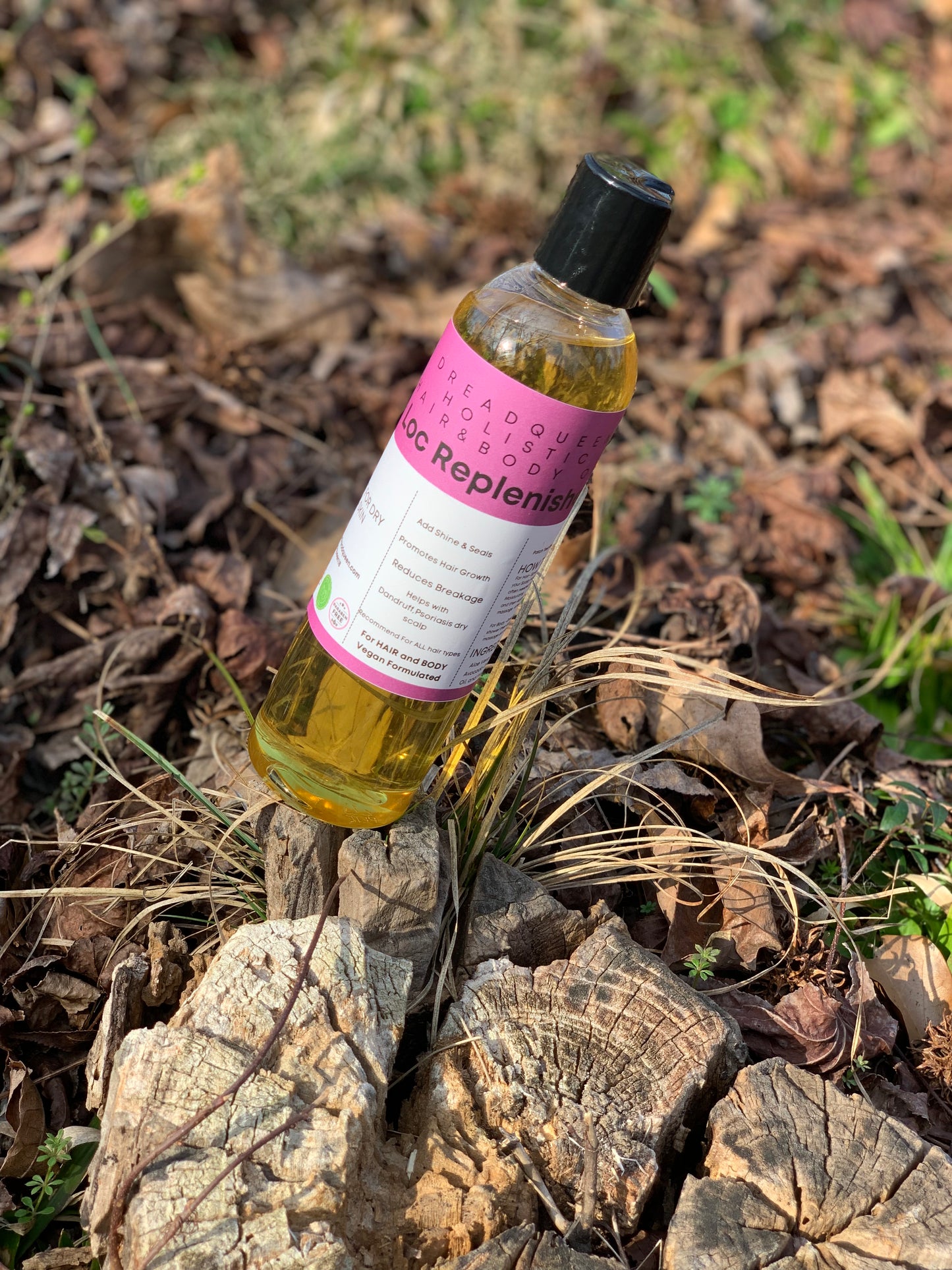 The review
love the natural oil and the lavender mist. I've had a itch head for a while now and noticed my hair was thinning. Using this product was the best solution and I love it…. Will recommend too anyone💯
Love the Oil!! & Hydro Mist
I absolutely love the oils for my face and Feet it keeps both moisturized all day, And it smells great! Also grab you a bottle of the the Lavender Hydration mist for your hair it keeps my son Locs looking shiny and keeps our hair soft ( i'm natural) you def won't regret it!!
Amazing
This oil goes on so smooth it's not too thick or thin the texture is perfect. The smell of this oil is absolutely immaculate and I never write reviews so PURCHASE you will not REGRET it at all. I use it for my body and my hair and I absolutely love it.
Amazing OIL!!
You all have to try MY stylist oil. This stuff is AMAZING. I personally use it on my face and it makes it feel sooo soft. yep, Thank me later!! For real yall need to try it. Face is on point and amazingly soft!!!
Please order some of Sherri hair oil and hydration mist for your hair. I use the oil on my scalp and hair 2-3x a week and the hydration mist everyday. When I first started using her hair products I didn't have no edges but now I can honestly say I have edges now. The hydration mist smells so good it keeps my locs soft.
WE WANT TO HEAL YOUR SCALP AND GROW YOUR HAIR & EDGES BACK I CARE ABOUT YOUR HAIR
Welcome to my store, where you can find all things Sherri's Naturals all products are 100% organic Natural & Hollistic and Proven to cure and treat your scalp. Our products are great if you strugging with dry scalp, psoriasis,lack of growth,inflammed follices Our products restore,revuild,stop breakages,add moisture and most of all HEALS SCALP and GREAT FOR ALL HAIR TYPES. I reccomend you order my special vegan formulatedHydration mist and oil with aloe lemongrass teatree and other herbs Hydration mist and oil
SEE YOU AT CHECKOUT !!
Rose Water Hydration Mist

Are you struggling with dandruff,Lack of Moisture? Dryness? lack og growth,Dandruff? this Natutal Organic Mist will do the job cruelty free and good on ALL HAIR TYPES

5 STAR REVIEW

5 STAR REVIEW FROM CUSTOMERS
LACK OF MOISTURE,GROWTH FRRIZZINESS DRY COLOR TREATED HAIR?
If you haven't quite found the shampoo and conditioner of your dreams, then Olaplex No. 4 and 5 will be perfect for you. Olaplex products are designed to work well with all hair types to prevent breakage and this shampoo and conditioner duo can be a treat for your hair no matter what your texture, length, or color is.